From Nahal Havarim to Nahal Tzin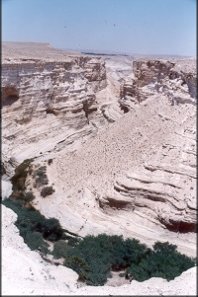 Information:
Maps: 1:250,000 - Israel, southern sheet, physical.
1:50,000 - Sde Boker
1:50,000 - Touring and Tracks map - Northern Negev - West, map no. 15.

Track sign color: blue.

Length of hiking track: 3km (~1.86 miles).

Duration of hike: ~2 hrs.

Age of hikers: all family.

Preferred season: all year.

Essential equipment: map, water bottle, hat, hiking shoes.

Equipment for geology enthusiasts: nail, 5% Hcl, geologist's hammer.

Vehicle approach: the track begins about 2km (~1.2 miles) south to the Ben Gurion College, on the road to
Mitzpe Ramon, near the sign *NAHAL HAVARIM* .

Pick up point: on the route from the Ben Gurion College to Ein Ovdat canyon, at the end of the turns, near the
sign *TO NAHAL HAVARIM*.

Medical assistance: at the Ben Gurion College and Sde Boker kibutz.

Please do not harm the fauna, flora and landscape. Behave in accord with nature preservation laws.

For more details please contact the Sde Boker Field School:

Tel: +972+7+6532016
The area:
This time we'll travel in Nahal Havarim, which flows in the northern margins of the Ovdat plateau. The stream creates a
narrow, twisted canyon about 3km (~1.8 miles) long. The stream begins on the south-easterly slopes of the Halukim range,
near the Ben Gurion College, and flows to Nahal Tzin. On the trek we'll see an ancient water hole and become familiar with
the various plants and rocks common in the Negev desert.
How to reach the track:
From the Ben Gurion College we'll drive 2km (~1.2 miles) south on the road to Mitzpe Ramon.We'll stop near a sign, on
a turn, which directs eastward toward Nahal Havarim. There we'll leave the car and descend to the creek.
RAM !
I hope this will do. As you can see, I've translated
as "Nahal", although it can also be called "Wadi", "Creek", "Stream"...
Anyway, I can build the entire site in English, but the cost will be different from what you've agreed with for the text translation only.
Please contact me from here: shlomz@hotmail.com
You can check other sites I've built: