Links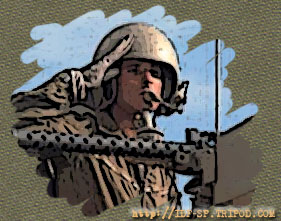 Israeli sites:

IDF- The official Israeli Defence Forces website.

Shiryon- The official Israeli Armoured Corps website.

IAF - The official Israeli Air Force website.

The Armored Corps Museum - The IDF's Armor museum in Latrun (hebrew only).

The National Photo Archives - The online archives of the Israeli goverment's press agency. A great source for pics of Israel and the IDF.

IMI - The Israeli military industry website.

RAFAEL -The Israeli high-tech weapons industry.

ISAYERET.COM- A very comprehensive site dedicated to the Israeli special forces.

Gaming links:

Steel Panthers 1 download -great news! SP1 is now abandonware! Get it here - free and legally.

The Wargamer -Great wargaming site and magazine.

The Steel Panthers Mailing List - Join the action ! :-)

The Mobhack homepage - Where mob files editing utilities can be found.

PIBWL - A good resouce for varios SP improvement packs.

IDF Squad -Home page of the IDF unit for the "Operation: Flashpoint" game.

Steel Tigers -Another SP site, containing scenarios for SP I,II & III.

Military and Armor links:

ARMOR - The US army armored corps magazine.

Federation of American Scientists - An excellent site dedicated to monitoring the military crisses and weaponry of the world.

Military Vehicles Magazine - A bi-monthly mag dedicated to military vehicles.

Army Technology - Information about modern military equipment.

Tony Matteliano's ScaleModel Bookmarks - A good collection of links to armor and military sites.

Military Clipart Gallery - A very nice collection of military related clipart.

Armor Photo - A photo gallery of various military vehicles and equipment.

IDF Modelling- A site containing resources for modellers. Contains a GREAT photo gallery!

Yahoo IDF Armor Group- A Yahoo discussion group for IDF armor issues.

Yahoo Israeli Armed Forces Club- A Yahoo club dedicated to IDF vehicles modelling.

Y's Paper Model Workshop- AKA "Paper Panthers" - bulid your own Merkava Mk3!

Aezrets- A site containing info on Israeli armor, including stata for the TWILIGHT:2000 game

Middle East related Links:

Golan-Syria - The Syrian version of the 1973 war.

Egyptian Armed Forces - The official website of the Egyptian military.

MENIC - The Texas university's Middle East network.

Begin-Sadat Center - The Begin-Sadat center of strategic studies webpage.

Jaffe Center - The Jaffe center of strategic studies website.

The Royal Jordanian Air Force - The official RJAF website.

The Jordanian Public Security Directorate - The official website of the Jordanian Public Security branch.

The Arab-Israeli Wars Maps - Collection of 13 maps provided by the US Military Academy which describe the conflicts between 1948 and 1973.

King Abdalla's Design & Development Bureau - The official site of the Jordanian military R&D.

DefenseNews.com - The website of the defense news magazine.

The Debka Files - A very interesting defense and political analysis site.